CMSD82 Board of Education Open Letter – March 12, 2019
In light of the recent renewal signing of the BC Tripartite Education Agreement: Supporting First Nation Student Success, the Board of Education for Coast Mountains School District 82 wishes to publicly declare its commitment to ongoing collaboration with communities in the school district to close the education outcome gaps between First Nations and non-First Nations students.
The renewed BC Tripartite Education Agreement is the result of an extensive engagement process between BC's First Nations Education Steering Committee (FNESC), Canada's Ministry of Indigenous Services and BC's Ministry of Education. The agreement benefits First Nations students across the province, recognizing that First Nations people have the right to make educational decisions that affect their students, within their education institutions, consistent with their unique needs, experiences, beliefs and values.
The Board of Education further recognizes the importance of breaking down barriers and ensuring all students are provided skills and opportunities to achieve success. The school district continues its focus on Indigenous cultural and traditional learnings including enhancing Indigenous languages for our learners. Currently Indigenous language learning in Coast Mountains School District includes mentorship and collaboration with Dr. Lorna Williams, University of Victoria Professor Emerita of Indigenous Education (Curriculum and Instruction) and recipient of the Indspire Award that represents the highest honour the Indigenous community bestows upon its own people.
Coast Mountains School District 82 is located in the northwest of British Columbia and includes the main communities of the Hazeltons, Kitimat, Kitwanga, Stewart, Terrace and Thornhill serving a student population of approximately 4,300 students. The school district is located on the traditional territories of three Indigenous Nations: the Gitksan, the Haisla, and the Tsimshian. The Gitksan‐Wet'suwet'en Nation of the Hazelton area is made up of seven First Nations communities consisting of Gitanmaax, Gitanyow, Gitsegukla, Gitwangak, Glen Vowell, Hagwilget and Kispiox located through the Hazelton communities and the Kispiox Valley. The Haisla Nation is centered in the Kitamaat Village and the Tsimshian Nation has two distinct First Nations communities, the Kitselas and Kitsumkalum, in the Terrace and Thornhill areas.
The Board of Education for Coast Mountains School District recognizes Section 35 of the Canadian Constitution which defines the rights of Indigenous peoples of Canada.
The Board of Education reinforces its commitment to work in partnership with Indigenous communities in support of the Calls to Action from the Truth and Reconciliation Report. It further commits to working in partnership with the First Nations to affirm Indigenous voice in decision making in accordance to the implementation of the BC Tripartite Education Agreement: Supporting First Nation Student Success.
Further, the Board of Education recognizes its responsibility to ensure ongoing public dialogue and actions to support the United Nations Declaration on the Rights of Indigenous Peoples.
As a public institution, the Board of Education for Coast Mountains School District recognizes the responsibility of all its employees and Canadian citizens to work with Indigenous peoples to ensure we achieve reconciliation by honouring the truth of Indigenous peoples' historical and current experiences in Canada.
The Board of Education is committed to learning from all First Nations it serves to continue enhancing the curriculum in our schools with local Indigenous history, language and culture. The importance of our partnerships is greatly valued and the ongoing collaborative work to elevate success levels for Indigenous learners in our schools.
Respectfully yours,
Shar McCrory
Chairperson, Board of Education
Open Letter distribution:
Chief Councillors & Education Coordinators: Gitanmaax, Gitanyow, Gitsegukla, Gitwangak, Glen Vowell, Hagwilget, Haisla, Kispiox, Kitselas & Kitsumkalum First Nations
Calvin Albright, Executive Director, Kermode Friendship Society
Sid Peltier, Interim President, Northwest BC Metis Association
Regional Chief Terry Teegee, British Columbia Assembly of First Nations
National Chief Perry Bellegarde, Assembly of First Nations
Honourable Seamus O'Regan, Federal Minister of Indigenous Services
Honourable Rob Fleming, BC Minister of Education
Tyrone McNeil, President, First Nations Education Steering Committee
Nathan Cullen, MP for Skeena-Bulkley Valley
Ellis Ross, MLA for Skeena
Cindy Lindley, Executive Director, Indian Residential School Survivors Society
Gordon Swan, President, BC School Trustees Association
Tina Last, President, North West Branch, BC School Trustees Association
Mayor Carol Leclerc, City of Terrace
Mayor Philip Germuth, District of Kitimat
Mayor Gail Lowry, District of New Hazelton
Mayor Gina McKay, District of Stewart
Mayor Dennis Sterritt, Village of Hazelton
Board Chair Philip Germuth, Regional District Kitimat-Stikine
Glen Hansman, President, British Columbia Teachers' Federation
Michael Wen & Kim Meyer, Co-Presidents, Coast Mountain Teachers' Federation
Monica Brady, President, Canadian Union of Public Employees, Local 2052
Krystal Miller, Chairperson, Coast Mountains District Parent Advisory Council
Local and Regional Media Outlets
Coast Mountains Board of Education School District 82:
Board of Education School Trustees
Katherine McIntosh, Superintendent of Schools
Raymond McDonald, Secretary Treasurer
All Employees
Open House   Thursday, September 20  4:30-5:30
Pro-D  Day No School for Students  Friday, September 21
Terry Fox Run  Thursday, September 27
Orange Shirt Day  Friday, September 28
Afterschool Clubs start Monday, October 1
For your reading enjoyment, please find the second issue of the CMSD82 Innovates quarterly bulletin which shares innovative initiatives and projects within Coast Mountains School District 82.  To view the bulletin, please click on the link below:
CMSD82 Innovates Bulletin – June 6, 2018
This second issue features original and creative programs from schools across our district that strive to make a difference in the lives of our students.  We hope you will be inspired by these innovative and student-centered learning programs.
We encourage you to share the CMSD82 Innovates quarterly bulletin with students, families and friends.
The next quarterly bulletin of CMSD82 Innovates will be issued in September 2018.
Sincerely,
Katherine McIntosh
Superintendent of Schools
Dear CMSD82 Employee,
On March 23, 2018 SmartFindExpress performed an update which has led to some on-call employees receiving calls but being unable to connect to the system.
Included in the update is the following new feature as shared by SmartFindExpress:
We have a new option that is not turned on for your district.  The option will need the sub to only enter their pin, and there is a playback to verify what was entered.  This new option has helped reduce many invalid entry phone issues for the subs.
You will want to notify the subs that when the system calls they will just need to enter in their pin only.  The system will play back the digits received and then they can confirm or re-enter.
SmartFindExpress believes that turning on this feature will resolve the issues of on-call employees being unable to connect.
Important Notations:
Effective April 6, 2018 after morning call-out we will activate this feature.

Beginning the evening call-out on April 8 onward you will only need to enter your PIN and * to log in to SmartFindExpress
Should you experience any issues, please include as much information as possible (date, time, job number, nature of the issue) and email hr@cmsd.bc.ca. 
If you have questions or you require immediate assistance, please contact Richard Anderson, Automated Dispatch Help Desk Clerk at 250-638-4439 or 1-855-635-4931, Local 4439 between the hours of 6:30 a.m. to 2:30 p.m.
Sincerely,
Kyla Magnusson
Human Resources Officer
Dear CMSD8
2 Employee,
The second of two Curriculum Implementation Days for the 2017-2018 school year will be held on Friday, April 13.  These days are specifically dedicated to BC's redesigned K-12 curriculum.
The following Curriculum Implementation Day sessions have been planned in Hazelton, Kitimat, Terrace and Thornhill on Friday, April 13 … to view the program or "shape of the day" for these venues, please click on the links below:
Hazelton-Kitwanga K-12 Teachers – Hazelton Secondary School
Kitimat K-12 Teachers – Nechako Elementary School
Terrace-Thornhill-Stewart K-6 Teachers – NTETC
Terrace-Stewart Grades 7-12 Teachers – Caledonia Secondary School
Should you have further questions or require additional information, please contact your School Principal for assistance.
A friendly reminder that all teaching staff are expected to be in attendance in one of the full-day sessions.  Sign-in sheets will be on-site to document attendance.  Individuals not present at a session will not be paid for the day. 
Not unlike any other non-instructional day, part-time employees will be expected to attend the day at a rate consistent with that of their employment (if you are a .6 FTE employee, you are expected to attend for 60% of the day).  Individuals are more than welcome to attend a greater portion of the day on a voluntary basis if they so desire.  Teachers Teaching-on-Call are also welcome on a voluntary basis as desired.
CUPE members are welcome at the sessions, however, CUPE staff are responsible to their School Principal for activities of the day.
We also share the following link to the Student Learning Module package as pre-reading for the Computational Thinking presentations offered during the Terrace, Thornhill and Stewart sessions:
Student Learning Module Package – Computational Thinking
In addition, we share a link to the School-Based Collaboration Form for completion by teaching staff attending the Terrace, Thornhill and Stewart sessions for return to their School Principal during the session on April 13 prior to the lunch break:
School-Based Collaboration Form – April 13, 2018 CI Day
A special thanks is extended to the Curriculum Implementation Committee for their efforts and organization for this significant and important work for Coast Mountains' learners.
We look forward to inspiring and engaging with you on April 13!
Sincerely,
Janet Meyer
Director of Instruction, School Support
BC's Ministry of Education announced a new smartphone and tablet-friendly website will provide interactive information about student outcomes to make it easier for parents and students, as well as school districts, to understand and use information that will enhance education for students.
By this fall, information about individual schools will be available to give parents a better understanding about how their child's school is doing across the district.  Right now, access to measures of student success, such as grade to grade transitions, completion rates, foundation skills assessment results and other outcomes, in all districts is available to compare the data with the latest trends and provincial averages.
On the website, school district by school district reports are now available in easy-to-read and interactive formats, giving parents a better understanding of their school district's strengths and areas for continuous improvements, as well as B.C.'s education system as a whole. Information contained in these reports also includes community and student demographics, post-secondary and career preparation, as well as student satisfaction.
The website works on smartphones, tablets and computers of all kinds and is easily accessible at:
www.bced.gov.bc.ca/reporting/systemperformance
For more information, please reference the following Ministry of Education's announcement:
https://news.gov.bc.ca/releases/2017EDUC0091-001075
Additional information will be forthcoming to school districts from the Ministry of Education regarding this exciting and helpful initiative for students and parents.
Homestay Families Wanted
(Article in PDF Format Poster)
Coast Mountains School District 82 and Northwest Community College are seeking homestay host families for international students.  Students from around the world are choosing to study in beautiful and pristine northwest BC and you can play an important role in making their Canadian experience truly unforgettable.
High school and college students want to experience high-quality, personalized education while experiencing local culture, discovering the great outdoors and enjoying the safety and friendliness of smaller communities.  Help us show them our true regional hospitality by becoming a homestay family.
Living with local families helps international students immerse themselves in Canadian culture and helps in developing English language skills.  By opening your home to a student, they will experience daily life in Canada, while introducing your family to the unique opportunity to learn about another culture.  It is also the beginning of what often becomes a life-long, cross-cultural friendship.
Students will need both short and long-term homestay experiences.
For more information about becoming a host family for the International Student Homestay Program, please visit the school district's new International Student Program website at:
Or contact our Director of Instruction for School Support, Janet Meyer at (250) 638-4480 or study@cmsd.bc.ca for assistance.
Wednesday, February 22nd is Day of Pink across British Columbia and Canada! 
Join thousands of students and staff across British Columbia to show your support for anti-bullying initiatives: wear the official anti-bullying colour, pink!
Pink Day started in 2007 when two Nova Scotia high school students decided to create a "Sea of Pink" to support a grade 9 boy who was called homophobic names when he wore a pink shirt to school.  See related story on CBC.ca website.   This day is now celebrated right across Canada.
A sea of pink in schools and communities will show BC's commitment to a safe and inclusive province that actively promotes respectful and kind behaviour among its citizens.
On February 22nd we encourage everyone to practice kindness.  Together we can end bullying!
MOE-CMSD82 Community Open House – Rural Education – Feb. 6, 2017  (PDF Poster)
In the summer of 2016, Premier Christy Clark tasked Parliamentary Secretary Linda Larson to work with the education sector, the public and community stakeholder groups, as well as Donna Barnett, the Minister of State for Rural Economic Development, to create a Rural Education Strategy by the summer of 2017. The purpose of this engagement is to explore rural school funding and educational practices, as well as the role educational programs and schools play in rural communities across the province.
The Parliamentary Secretary is seeking feedback from British Columbians and interested stakeholders to provide a range of different perspectives on the challenges and opportunities facing rural school districts and communities for her consideration. Regional Community Open House sessions are scheduled in 9 locations throughout the province, including Terrace on February 6, 2017 hosted by Coast Mountains Board of Education School District 82, with the aim to gather feedback from families and community members through an open dialogue.
Everyone is welcome to attend the Community Open House session!  The first 30-45 minutes will be an Open House format, where light refreshments and snacks will be served.
The remaining portion of the meeting will be a more formal question and answer sharing session with Ministry of Education staff. You are invited to share your thoughts on the following discussion questions at the Community Open House session:
Discussion 1: What is your definition of a rural school?
Discussion 2: What are the positive impacts in the community?
Discussion 3: How are schools being used?
Discussion 4: Share your rural education story
SHARE YOUR THOUGHTS AT THE TERRACE COMMUNITY OPEN HOUSE
… EVERYONE IS WELCOME!
DATE & TIME:  Monday, February 6, 2017, 6:00 p.m. to 8:00 p.m.
LOCATION:
Northwest Trades & Employment Training Centre, 3120 Highway 16 East, Terrace
(formerly Thornhill Junior Secondary School – https://goo.gl/maps/Mq3pZa8WxeR2)
Pre-registration or RSVP's are not required for the community session.
Light snacks and refreshments will be provided.
Please contact Carole Gagnon, CMSD82 Executive Assistant at (250) 638-4401 or carole.gagnon@cmsd.bc.ca, should you have questions regarding the Terrace Community Open House.
All online comments, emails, technical surveys, stakeholder submissions and comments from Community Open House sessions will be reviewed and a final report, with recommendations for the future, will be released near the end of the 2016/2017 school year.
For more information, please visit the Rural Education website at:
MOE/CMSD82 Community Meeting K-9 Student Progress Reporting, Nov. 28, 2016
(PDF Format Poster)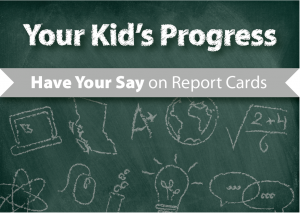 British Columbia's new school curriculum is making sure students are ready to succeed in our changing world. The Ministry of Education wants parents to share how they want to learn about their child's progress from Kindergarten to Grade 9. Together with educators, the government is developing a new reporting approach for students in Kindergarten to Grade 9, to give parents a deeper understanding of their child's progress at school. With new curriculum being implemented in B.C. classrooms this school year, the way student progress is reported must change too.
The Ministry's parent engagement on student reporting will run from October 2016 to February 28, 2017. There will be two primary ways for parents to be involved and have an opportunity to provide feedback on student reporting:
Online Feedback Forum at www.engage.gov.bc.ca/yourkidsprogress/ (information about changes to the curriculum, future of student reporting with a series of questions asking for parent feedback).
Community Sessions in 10 locations around the province including Terrace on November 28, 2016 hosted by Coast Mountains Board of Education School District 82.  The community meetings will be open-house style for the first two hours. Parents and interested community members can come in and learn more, talk to Ministry and school district staff, and then complete a feedback form. The last hour will be a Ministry facilitated design session specifically focused on the future of reporting student progress.
ATTEND THE COMMUNITY MEETING TO LEARN MORE
EVERYONE IS WELCOME!
DATE & TIME:  Monday, November 28, 2016, 5:00 p.m. to 8:00 p.m.
LOCATION:  Northwest Trades & Employment Training Centre,
3120 Highway 16 East, Terrace
(formerly Thornhill Junior Secondary School
https://goo.gl/maps/Mq3pZa8WxeR2)
Pre-registration or RSVP's are not required for the community meeting.
Light snacks and refreshments will be provided.
Please contact Carole Gagnon, CMSD82 Executive Assistant at (250) 638-4401 or carole.gagnon@cmsd.bc.ca, should you have questions regarding the Terrace Community Meeting.