FYI
Coast Mountains' schools and the Board of Education Office will be closed on Monday, November 12, 2018 in observance of Remembrance Day, and will re-open as regularly scheduled on Tuesday, November 13.
Remembrance Day assemblies will be held throughout our school district on Friday, November 9.
On this Remembrance Day, we pay tribute to those past and present who served our country with courage and compassion.  Lest we forget …
Open House   Thursday, September 20  4:30-5:30
Pro-D  Day No School for Students  Friday, September 21
Terry Fox Run  Thursday, September 27
Orange Shirt Day  Friday, September 28
Afterschool Clubs start Monday, October 1
Dear Parents and Guardians,
I would like to welcome the school community to the 2018-2019 School Year!   We are looking forward to working with all of you this year on behalf of Coast Mountains learners, and continue to make progress towards our district goals.
Shared Vision …"Coast Mountains School District: creating opportunities for learning, opportunities for life."
District Goals … Raise literacy and numeracy levels for all of our learners.  Graduation for every learner; crossing the stage with dignity, purpose and options.  Enhance learner engagement, opportunities and choice through personalized learning.
I look forward to continue leading the way to turn these goals into reality, and I hope you will all join the Board of Education, School District 82 staff and myself in this quest for successful learning.
School Opening … the first day of school will be Wednesday, September 5.  We have well established routines and we will follow our normal opening day routines with a shortened first day.  Buses will make their morning runs at the usual time on September 5 with their return runs after students have been in attendance for approximately two hours.  Mount Elizabeth Middle/Secondary School students please reference below for September 5 start times.  As you will know, these first days allow us to greet students, set preliminary enrolment and then prepare in earnest for the coming school days.  Our first full day of school will be Thursday, September 6 with regular school hours and bus runs in effect.  Bus routes and school start times are provided below.
If you require information on which school your child should attend, please call (250) 638-4401 or 1-855-635-4931, Local 4401.
We look forward to welcoming your children in our schools on September 5.
Sincerely,
Katherine McIntosh
Superintendent of Schools
PRE-REGISTRATION FOR ALL SCHOOLS
(WITH THE EXCEPTION OF THE
NORTHWEST TRADES & EMPLOYMENT
TRAINING CENTRE)
WILL BE HELD ON TUESDAY & WEDNESDAY,
AUGUST 28 & 29, 2018 FROM 9:00 A.M. TO 3:00 P.M.
Kindergarten pupils are requested to begin attending
on the date arranged by the school.  Pupils not pre-registered should register on the
above-mentioned dates.
SCHOOL OPENING – SEPTEMBER 5, 2018 FOR ALL STUDENTS
(EXCEPT KINDERGARTEN)
at the times as listed in the following 2018-2019 CMSD82 Return to School Messages
which will run in local newspapers in preparation for the new school year.
CMSD82 2018-2019 Hazelton & Kitwanga Return to School Message
CMSD82 2018-2019 Kitimat Return to School Message
CMSD82 2018-2019 Terrace & Thornhill Return to School Message
CMSD82 2018-2019 Stewart Return to School Message
Note:
On September 5

only

, buses for all schools will make their morning runs at the usual time and their return runs after students have been in attendance for approximately two hours. 
On September 5, Mount Elizabeth Middle/Secondary School, Grades 7 and 8, report to the large gym at 9:00 a.m.; Grades 9 to 12, report to their home room at 12:30 p.m.  A second bus run for Mount Elizabeth Secondary will begin at 11:40 a.m. on September 5.
REGULAR SCHOOL HOURS AND BUS RUNS WILL COMMENCE
ON THURSDAY, SEPTEMBER 6, 2018.
SCHOOL DISTRICT 2018-2019 BUS SCHEDULES/ROUTES

Hazelton-Kitwanga Bus Schedules-Routes – 2018-2019 School Year
Kitimat Bus Schedules-Routes – 2018-2019 School Year
Terrace-Thornhill Bus Schedules-Routes – 2018-2019 School Year
(above links provide one PDF file for each respective area with all bus routes/stops)
Terrace:  School buses will only be provided to students living outside the city boundaries.  Those students living within city boundaries should consult the Terrace Regional Transit System for scheduling information and rates at 250-635-2666.
Should you have questions or concerns regarding bus routing and scheduling the following steps are suggested:
1)   Contact your child's/children's School Principal.
2) Contact the Operations Manager at Diversified Transportation bus lines at 250-635-7042 or 1-855-538-5287 for out of town.
In preparation for the 2018-2019 School Year, please find the School Supplies Lists as provided by Coast Mountains School District schools:
Please Note:
Cassie Hall Elementary School, Suwilaawks Community School and Thornhill Primary School provide classroom supplies to students for a fee.  Parents/Guardians will be provided information during the first week of school.
Caledonia Secondary School, Hazelton Secondary School (Grades 10-12), Parkside Secondary School, Kitimat City High School and Mount Elizabeth Middle/Secondary School (Grades 9-12) provide information relating to classroom supplies to students during the first week of school.
Should you require further information, please contact Carole Gagnon, Executive Assistant at the Board of Education Office at (250) 638-4401 or via email at carole.gagnon@cmsd.bc.ca.
We look forward to Coast Mountains' students return to school on September 5, 2018.
Have a wonderful summer!
For your reading enjoyment, please find the second issue of the CMSD82 Innovates quarterly bulletin which shares innovative initiatives and projects within Coast Mountains School District 82.  To view the bulletin, please click on the link below:
CMSD82 Innovates Bulletin – June 6, 2018
This second issue features original and creative programs from schools across our district that strive to make a difference in the lives of our students.  We hope you will be inspired by these innovative and student-centered learning programs.
We encourage you to share the CMSD82 Innovates quarterly bulletin with students, families and friends.
The next quarterly bulletin of CMSD82 Innovates will be issued in September 2018.
Sincerely,
Katherine McIntosh
Superintendent of Schools
The National Day of Mourning is observed annually in Canada on April 28 to honour those who have lost their lives while working on the job. The purpose of the National Day of Mourning is two-fold … to remember and honour those lives lost or injured and to renew the commitment to improving health and safety in the workplace … to prevent further deaths, injuries and diseases from work.
Every year workers, families, employers, communities and others come together at ceremonies held around the province and the country to remember those who have lost their lives to work-related incidents or occupational disease, and to renew their commitment to creating safe workplaces. Since its inception, the observance has spread to over 80 countries around the world, but is known in most other countries as the Workers' Memorial Day.
The Canadian flag on Parliament Hill is typically flown at half-mast on April 28, and workers and employees observe this day in various ways including observing moments of silence.
To mark our school district's commitment in observance of the National Day of Mourning on April 28, Coast Mountains School District flags will be lowered to half-mast on Friday afternoon, April 27 and raised on Monday, April 30 prior to the start of school.
For more information, please visit the BC Day of Mourning website at dayofmourning.bc.ca.
Dear CMSD82 Employee,
On March 23, 2018 SmartFindExpress performed an update which has led to some on-call employees receiving calls but being unable to connect to the system.
Included in the update is the following new feature as shared by SmartFindExpress:
We have a new option that is not turned on for your district.  The option will need the sub to only enter their pin, and there is a playback to verify what was entered.  This new option has helped reduce many invalid entry phone issues for the subs.
You will want to notify the subs that when the system calls they will just need to enter in their pin only.  The system will play back the digits received and then they can confirm or re-enter.
SmartFindExpress believes that turning on this feature will resolve the issues of on-call employees being unable to connect.
Important Notations:
Effective April 6, 2018 after morning call-out we will activate this feature.

Beginning the evening call-out on April 8 onward you will only need to enter your PIN and * to log in to SmartFindExpress
Should you experience any issues, please include as much information as possible (date, time, job number, nature of the issue) and email hr@cmsd.bc.ca. 
If you have questions or you require immediate assistance, please contact Richard Anderson, Automated Dispatch Help Desk Clerk at 250-638-4439 or 1-855-635-4931, Local 4439 between the hours of 6:30 a.m. to 2:30 p.m.
Sincerely,
Kyla Magnusson
Human Resources Officer
Dear CMSD8
2 Employee,
The second of two Curriculum Implementation Days for the 2017-2018 school year will be held on Friday, April 13.  These days are specifically dedicated to BC's redesigned K-12 curriculum.
The following Curriculum Implementation Day sessions have been planned in Hazelton, Kitimat, Terrace and Thornhill on Friday, April 13 … to view the program or "shape of the day" for these venues, please click on the links below:
Hazelton-Kitwanga K-12 Teachers – Hazelton Secondary School
Kitimat K-12 Teachers – Nechako Elementary School
Terrace-Thornhill-Stewart K-6 Teachers – NTETC
Terrace-Stewart Grades 7-12 Teachers – Caledonia Secondary School
Should you have further questions or require additional information, please contact your School Principal for assistance.
A friendly reminder that all teaching staff are expected to be in attendance in one of the full-day sessions.  Sign-in sheets will be on-site to document attendance.  Individuals not present at a session will not be paid for the day. 
Not unlike any other non-instructional day, part-time employees will be expected to attend the day at a rate consistent with that of their employment (if you are a .6 FTE employee, you are expected to attend for 60% of the day).  Individuals are more than welcome to attend a greater portion of the day on a voluntary basis if they so desire.  Teachers Teaching-on-Call are also welcome on a voluntary basis as desired.
CUPE members are welcome at the sessions, however, CUPE staff are responsible to their School Principal for activities of the day.
We also share the following link to the Student Learning Module package as pre-reading for the Computational Thinking presentations offered during the Terrace, Thornhill and Stewart sessions:
Student Learning Module Package – Computational Thinking
In addition, we share a link to the School-Based Collaboration Form for completion by teaching staff attending the Terrace, Thornhill and Stewart sessions for return to their School Principal during the session on April 13 prior to the lunch break:
School-Based Collaboration Form – April 13, 2018 CI Day
A special thanks is extended to the Curriculum Implementation Committee for their efforts and organization for this significant and important work for Coast Mountains' learners.
We look forward to inspiring and engaging with you on April 13!
Sincerely,
Janet Meyer
Director of Instruction, School Support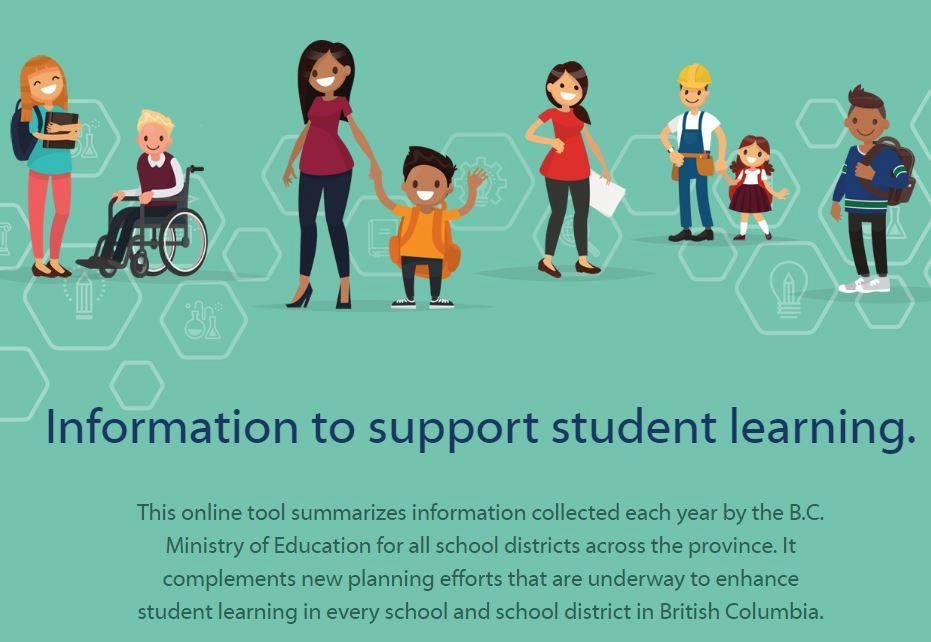 BC's Ministry of Education announced a new smartphone and tablet-friendly website will provide interactive information about student outcomes to make it easier for parents and students, as well as school districts, to understand and use information that will enhance education for students.
By this fall, information about individual schools will be available to give parents a better understanding about how their child's school is doing across the district.  Right now, access to measures of student success, such as grade to grade transitions, completion rates, foundation skills assessment results and other outcomes, in all districts is available to compare the data with the latest trends and provincial averages.
On the website, school district by school district reports are now available in easy-to-read and interactive formats, giving parents a better understanding of their school district's strengths and areas for continuous improvements, as well as B.C.'s education system as a whole. Information contained in these reports also includes community and student demographics, post-secondary and career preparation, as well as student satisfaction.
The website works on smartphones, tablets and computers of all kinds and is easily accessible at:
www.bced.gov.bc.ca/reporting/systemperformance
For more information, please reference the following Ministry of Education's announcement:
https://news.gov.bc.ca/releases/2017EDUC0091-001075
Additional information will be forthcoming to school districts from the Ministry of Education regarding this exciting and helpful initiative for students and parents.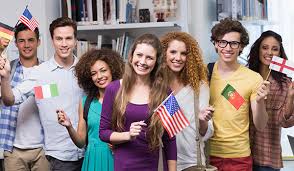 Homestay Families Wanted
(Article in PDF Format Poster)
Coast Mountains School District 82 and Northwest Community College are seeking homestay host families for international students.  Students from around the world are choosing to study in beautiful and pristine northwest BC and you can play an important role in making their Canadian experience truly unforgettable.
High school and college students want to experience high-quality, personalized education while experiencing local culture, discovering the great outdoors and enjoying the safety and friendliness of smaller communities.  Help us show them our true regional hospitality by becoming a homestay family.
Living with local families helps international students immerse themselves in Canadian culture and helps in developing English language skills.  By opening your home to a student, they will experience daily life in Canada, while introducing your family to the unique opportunity to learn about another culture.  It is also the beginning of what often becomes a life-long, cross-cultural friendship.
Students will need both short and long-term homestay experiences.
For more information about becoming a host family for the International Student Homestay Program, please visit the school district's new International Student Program website at:
Or contact our Director of Instruction for School Support, Janet Meyer at (250) 638-4480 or study@cmsd.bc.ca for assistance.